Arm Lift in San Francisco
The upper arms can change as a result of weight fluctuations and aging. At some point, many people look at their arms and see sagging, drooping tissue. When this happens, there is only so much that exercise can do. With time and consistency, the muscle tone in the upper arm can improve. However, working out does nothing to tighten skin that has lost its elasticity. To noticeably improve the appearance of the backs of the arms, we suggest an arm lift.
What Is an Arm Lift?
The arm lift procedure is referred to a brachioplasty. It is a surgical technique in which excess fat and tissue are removed from the upper arm, between the underarm and the elbow. As a result of the arm lift, the arms look slimmer and more contoured. Slimmer arms are in better proportion with the upper body.
Who Is a Candidate for an Arm Lift?
Dr. Fisher performs arm lifts on a wide variety of patients. This procedure is often considered by people who have lost a substantial amount of weight. However, an adult whose arms have changed due to aging may also seek brachioplasty to restore their desired shape.
In general, good candidates for an arm life are:
In good general health
Do not smoke (or are willing to quit for a time)
Managing a stable weight and are not significantly overweight at the time of surgery
Aware of the potential and limitations of arm surgery
Massive Weight Loss
People who have undergone massive weight loss often have excessive hanging skin and this is very common on the upper arms. The arms become "deflated" and even with good muscle tone underneath, the skin just sags. In many cases, there is so much excess skin that there is a "batwing" appearance when the arms are raised out to the side.
Self confidence can be significantly affected as people with "batwings" are embarrassed to show their arms in public and are unable to wear certain clothes they may want to wear. Clothing can also be ill-fitting because what fits the body may not fit the arms. Sometimes hygiene is affected as well. Physical activity and athletic endeavors may also be limited due to the bouncing effect of the skin with movement.
Other Factors
Genetics and aging can also play a role in this, and there are people who tend to accumulate fat in their upper arms. With simple weight fluctuations, the skin can hang. Unfortunately, no matter how much exercise is done, the skin has lost elasticity and just can't be tightened.
Benefits of Brachioplasty Surgery
Arm lift surgery can quickly restore smoother, tighter contours to the upper arm. Even with postsurgical swelling, patients see the improvement in their appearance right away. Once excess fat and skin have been adequately trimmed away, the new appearance of the arms can last many years. The aging process will naturally affect firmness to some degree, but most of the improvement obtained with brachioplasty is expected to be long-lasting provided weight is maintained.
Before and After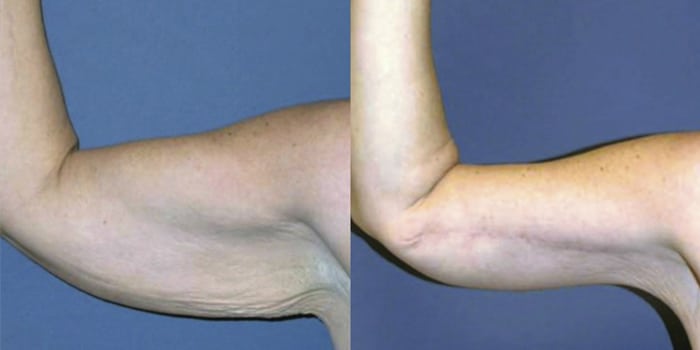 The Arm Lift Procedure
Arm lift procedures are performed in an outpatient surgery center. General anesthesia is administered for patient comfort. Surgery takes up to one hour per arm, beginning with preoperative marking while the patient is standing or sitting in an upright position. This marking determines incision placement and the amount of skin to be removed. In some cases, tissue trimming may extend below the elbow crease. After incisions are made, excess tissue and skin are carefully trimmed to achieve a slimmer circumference. If needed, minor liposuction may be performed to smooth the area. Surgery concludes with the placement of dissolvable sutures. A waterproof dressing is also applied to protect incisions as they heal.
Alternates to Brachioplasty
Recently, several medical devices have been developed to remove stubborn fat without surgery. CoolSculpting is one example. What patients need to understand is that nonsurgical fat reducing technologies only work on fat cells. They do very little, if anything, to tighten the skin. While exercise and nonsurgical fat reducing treatments may make a dent in "bat wings," they cannot resolve the problem altogether.
Can an Arm Lift Be Combined with Other Procedures?
Arm lifts are commonly combined with other procedures to achieve more profound results. Keep in mind that the arms have a direct effect on surrounding areas. Reducing the circumference of the upper arm may make small issues like bra bulge or armpit fat more noticeable. When loose and sagging tissue is the result of massive weight loss, patients may combine their arm lift with other body lift procedures such as a breast lift or thigh lift to maximize their results without multiple surgeries and recoveries.
Will I Have a Noticeable Scar After Arm Lift Surgery?
Scarring is an understandable concern when considering brachioplasty. As much as possible, Dr. Fisher limits incisions to a location where scars will be the most discreet. Generally, this is from the armpit to the elbow on the inner part of the arm. After surgery, patients are encouraged to avoid sun exposure to the incision area to reduce the risk of discoloration in healing tissue. Silicone scar sheets or scar creams may also be used to promote optimal healing of the skin. Over time, scars fade to a barely perceptible line.
What Are the Risks of Brachioplasty?
Common surgical risks associated with infection, bleeding, and anesthesia exist for brachioplasty patients. Additionally, there are minor risks of:
Asymmetry
Fluid accumulation
Prolonged numbness or tingling in the skin
Skin discoloration
Poor wound healing
Brachioplasty, like all surgical procedures, should only be conducted by a board-certified plastic surgeon. Dr. Fisher is certified by both The American Board of Surgery and The American Board of Plastic Surgery. She has years of training and clinical experience that has made her a recognized physician in her field.
How Soon After an Arm Lift Can I Return to Normal Activities?
Patients can expect to wear compression garments around the upper arms for at least a few days. Compression reduces swelling and helps to promote the circulation that is needed for optimal healing. Sutures will either dissolve or be removed approximately one week after surgery. This is the turning point at which light activities may be resumed. Dr. Fisher may advise keeping overhead movements to a minimum for another week or two. Strenuous activities can be resumed after six weeks of tissue healing.
Will My Arms Be Sore After Surgery?
The arm lift procedure is painless due to general anesthesia. Grogginess may linger for the remainder of the day. Along with that, some of the pain relief from anesthesia may also remain. Patients are encouraged to take prescription or over-the-counter pain medication as directed. Discomfort after brachioplasty is generally mild to moderate and manageable with cold compresses. The compression garments applied after surgery also reduce soreness.
Like all body contouring procedures, it trades loose skin and poor shape for improved contour and a scar. In good candidates, this surgery can be life changing.
---
Request a Consultation

Schedule a Consultation
If you are interested in learning more about the Brachioplasty (Arm Lift) procedure, contact our Palo Alto, CA office today at ‭650-460-7260. Our practice, Elite Transformations, is located in the San Francisco Bay Area.