Morpheus8 Radiofrequency Microneedling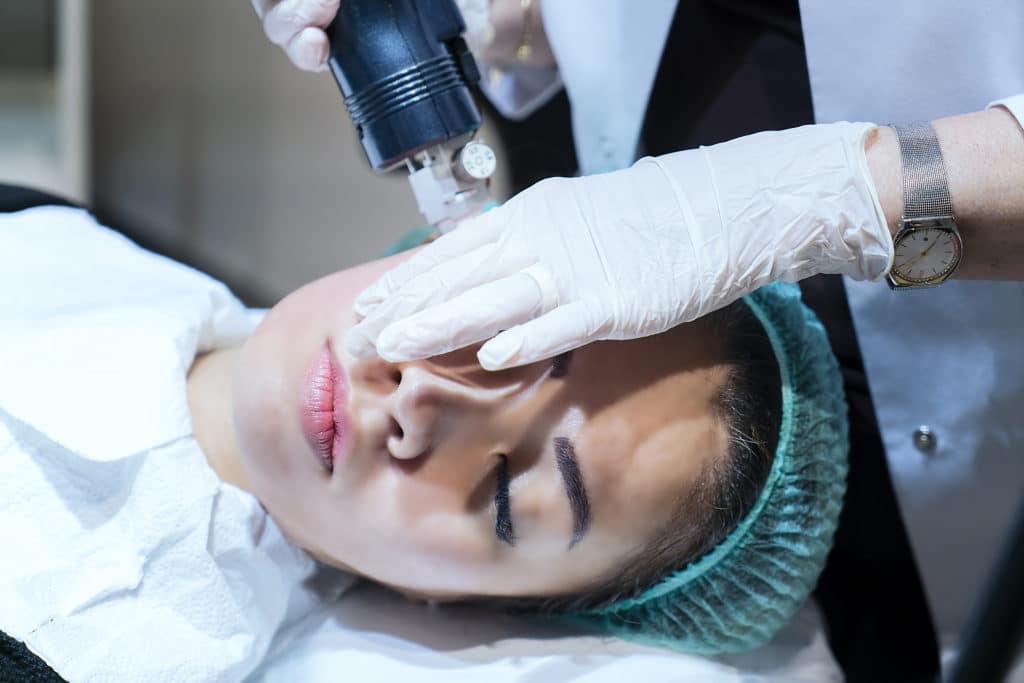 If you're looking around Dr. Fisher's website, you've no doubt heard of microneedling for improving your skin through hundreds of tiny punctures. And you've likely heard of radiofrequency energy being used (such as in our FaceTite treatments) to tighten the skin and stimulate collagen production.
What if you combined microneedling with deeply delivered RF energy?
You'd have Morpheus8. Dr. Fisher offers this revolutionary skin improvement treatment at Elite Transformations. Treatments are done at our San Mateo, CA office.
---
Schedule a Consultation Today!
What is Morpheus8?
Morpheus8 combines two popular noninvasive aesthetic treatments into one, all for the benefit of your skin. Morpheus8 basically combines microneedling with radiofrequency energy delivery. It does so by delivering the RF energy when the microneedling pins are at their full depth. This means the RF energy doesn't have to work to penetrate the outer epidermis; the pins allow the energy to be delivered directly into the dermis, where the increased collagen production is triggered.
In this way, Morpheus8 provides the superficial skin improvements of microneedling with the deep tissue collagen boost of radiofrequency energy.
Who is a candidate for Morpheus8?
If you have loose or sagging skin on your face, neck, or body, Morpheus8 is a good treatment to tighten these areas up. Both men and women with sun-damaged skin, hyperpigmentation, fine lines, wrinkles, large pores, and overall dull skin are great candidates for these treatments at Elite. These are not invasive treatments with only minimal recovery, so there aren't any limitations.
If you have an active skin condition, such as eczema, you should wait for the flare-up to resolve before having Morpheus8.
What are the benefits of Morpheus8?
In mode, the creator of Morpheus8 also makes Fractora. But Morpheus8 improves upon Fractora by providing deeper needle penetration, and deeper delivery of the RF energy.
Dr. Fisher is excited by the benefits for our patients:

Safe for all skin types, unlike many laser procedures
Minimally invasive with little, if any, downtime
Improves skin elasticity and firmness
Delivers significant improvement to cystic acne and scars
Helps to decrease large pores
Improves the appearance of lines and wrinkles
What areas can be treated with Morpheus8?
At Elite, we like the adjustability of Morpheus8. The microneedle penetration can be adjusted all the way up to 4mm of depth. This allows us to use Morphues8 on areas with thin skin, such as the forehead, by simply shortening the needle penetration. The extra depth is great for areas of thicker skin, such as the cheeks. Morpheus8 can be used just about anywhere on the face, neck, and body. We use Morpheus8 on areas you'd never think of treating with laser energy, such as the delicate tissues around the mouth and the upper and lower eyelids.
Here are specific areas we treat at Elite Transformations:

Entire face
Neck
Décolletage
Arms
Abdomen
Areas with stretchmarks
Post-surgical scars
Banana roll under the buttocks
Knees
What kinds of skin issues can Morpheus8 improve?
These treatments improve various skin problems:

Hyperpigmentation
Fine lines and wrinkles
Dull tissue
Large pores
Uneven skin tone
Acne scars
Active acne
Mild skin laxity anywhere
Stretch marks
How does Morpheus8 work?
Morpheus8 by InMode is a full-body fractional technology for subdermal adipose remodeling. That sounds like a mouthful, but the key to Morpheus8's effectiveness is that it delivers the RF energy more deeply into the dermis layer of the skin.
The Morpheus8 handpiece delivers typical microneedling through microneedles, but the penetration depth of these needles is sufficient enough to enter the dermis layer of the skin (up to 4mm). When the needles reach their target depth, the tips deliver a pulse of RF energy. This energy heats the dermis. When the body senses heat in the dermis layer, it assumes there has been a wound, so it initiates a wound-healing response. This involves remodeling all existing collagen in the area and then beginning the production of new collagen. Since collagen provides the skin's structural support latticework, this instantly tightens the skin and then the increased collagen continues to build your results.
Questions? Text or Call Today!
Will I have recovery and downtime after a Morpheus8 treatment?
After your Morpheus8 session, your skin will be red, and you'll likely have some mild swelling. As a response to the microneedling, your skin in the treated areas will feel tight and maybe a little shiny for 3-5 days. At the sites of the hundreds of microscopic punctures, you may have small, flaky scabs and some light peeling skin. If you keep your skin moisturized, all of this can be effectively dealt with. You will need to protect your skin with 30+ SPF sunscreen or just avoid the sun for a couple of weeks, as it will be susceptible to UV radiation. Patients can usually return to work the next day, but you may want to schedule your session in the afternoon to give your skin the evening to calm down a bit.
How many Morpheus8 treatments will I need?
Dr. Fisher recommends from one to four Morpheus8 treatments, depending upon your goals. Each Morpheus8 treatment should be spaced from 4 to 6 weeks apart; this allows your skin to fully heal and the collagen increase to take hold. After your series, occasional maintenance treatments will work to keep your collagen production at an elevated level.
Can I combine Morpheus8 with other treatments?
Morpheus8 can be a stand-alone treatment, or it can be combined with other treatments we offer at Elite Transformations. Because Morpheus8 has no major recovery time, it can be combined with dermal filler injections for example the Juvederm and Restylane lines. Botox or our other neuromodulators could be put to work on crow's feet or those frown lines on the upper third of your face. You could even add volume and shape to your lips by having Dr. Fisher inject them with Juvederm Volbella or Restylane Kysse. Dr. Fisher finds that skin texture is significantly improved when she uses Tixel with Morpheus8 as part of your treatment plan.
Is there any post-treatment care required with Morpheus8?
There really isn't anything special you need to do, and Dr. Fisher will instruct you regarding your specific treatment. As mentioned above, your skin will feel a little tight, possibly be a little swollen for 1-3 days. Protect it from sun exposure for a couple weeks, but that's a good idea all the time anyway, right?
Are Morpheus8 treatments painful?
When you arrive to see Dr. Fisher we apply a topical numbing anesthetic cream to the areas you will have treated with Morpheus8. This takes about an 30 minutes to take effect. This topical anesthetic ensures you are comfortable during these treatments. In some cases you may require injections of local anesthesia.
Patient Testimonials
"Dr. Fisher is truly amazing. She knows what she's doing & cares for her patients. I'm in awe of my results and I couldn't have picked a better surgeon." – Loni S.

"I give Dr. Orna Fisher a rating of six out of five stars! She's double board-certified in plastic surgery, and a true artist when it comes to achieving excellent surgical results." – Renee M,
Schedule a Consultation Today!
If you're interested in learning more about Morpheus8 treatment please contact us for a consultation by sending a text or call to 650.460.7260
or fill out our contact us form. At your consultation, Dr. Fisher will discuss your needs and concerns, and will determine your best course of action.