Top Surgery in San Francisco
Gender Affirmation Procedures
A large part of individual identity lies in our appearance. For transgender and non-binary individuals, this means the ability to bring their physical appearance into alignment with their true sense of self. We are proud to offer gender affirmation procedures at Elite Transformations. These procedures include chest reconstructive surgery, facial feminization, and body contouring. For the chest, male to female breast augmentation and female to male top surgery techniques are offered. Facial feminization and body contouring by both surgical and non-surgical means are offered as well.
Dr. Fisher's office in San Mateo, CA is conveniently located in the San Francisco Bay Area. We provide compassionate care to patients from nearby metropolitan areas including the greater San Francisco and East Bay areas, as well as to those who travel from out of state and internationally to see Dr. Fisher for gender affirmation procedures.
Candidates for Gender Affirmation Procedures
Gender affirmation procedures are appropriate for non-smoking individuals who have come to an informed decision about permanently altering their outward appearance. Patients who are prepared for this change, and who have realistic expectations of what is possible for them after comprehensive consultation, are the happiest with the outcome of their decision.
"Dr. Fisher is very easy to talk to and I really enjoyed having her as my doctor. As someone who's a transman, it's hard to find someone who is not only knowledgeable on the subject, but actually puts the time and effort into giving you the desired outcome. I couldn't be happier with the results and it far exceeded my expectations. Especially since other doctors had told me that I would have been able to have a periareolar procedure, but she was able to ease my worries.

I would definitely recommend her time and time again!" – Kyle
Female to Male Surgery
FTM chest reconstruction, also called Top Surgery, is performed for transgender men and non-binary transmasculine individuals. This procedure involves removal of existing breast tissue by various techniques to create a masculine chest. Female to male top surgery may be further complemented by appropriate body contouring procedures for masculinization. These may include liposculpting of the axillary area, which is fullness that often extends from the side of the chest to the underarm region. Fat reduction of the "muffin top" or flank areas to create a more masculine hip line can also be performed.
Common procedures include:
removal of existing breast tissue
body contouring
liposuction of underarm area
reduction of "muffin top"
creation of a masculine hip line
Female To Male Chest Reconstruction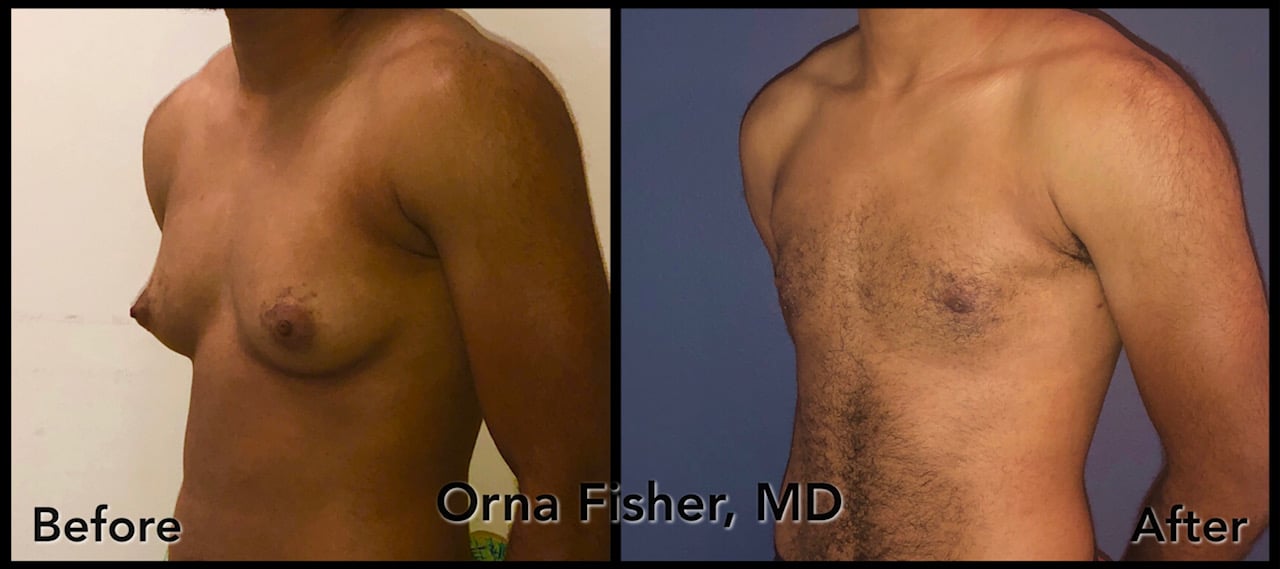 Click Here to view more before & after photos.

FTM Top Surgery Techniques
There are a number of techniques that may be considered for female to male top surgery and the technique chosen depends on multiple factors. Dr. Fisher performs all state-of-the art techniques, and the surgery is tailored to the individual. The incision type and tissue removal procedures you may be candidate for are determined by factors such as the amount of existing breast tissue, current breast size, and breast shape. Different incision techniques, such as keyhole, periareolar, and double incision all lead to different scar patterns. Dr. Fisher will help you understand which technique is most appropriate for you.
Recovery from FTM Top Surgery
Patients will need care at home and supervision for a few days after surgery. Care is generally done by a family member, close friend, or intimate partner. A compression garment will be worn for several weeks after surgery. Comfort is initially managed with prescription pain medication and progresses to over-the-counter medication within the first week after surgery. The ability to shower after surgery depends on the technique used. In some cases, drain tubes are placed, and will stay in place for 1-2 weeks.
While walking is encouraged after surgery, it is important to limit activities requiring upper body motion. In most cases, light physical activity can be resumed 1 week after surgery, and vigorous activity must be avoided for at least 1 month after surgery. Most people are excited to see that within 3 weeks after surgery, your result will start to be clear.
Real FTM Patient Review
"Highly recommend to all FTM – 5 Stars

I would recommend Dr. Fisher to anyone looking for a plastic surgeon. She was very helpful and was able to give me a lot of information on FTM. She made me feel so comfortable at our consolation that I didn't feel the need to meet with anyone else. My results were better then I could have imagined and I'm very thankful that I was able to find a doctor who is so excellent at their profession. If I could rate her higher then a 5 I would! I genuinely enjoyed this experience thanks to Dr. Fisher and I would recommend her to any of my family and friends."
Male to Female Breast Augmentation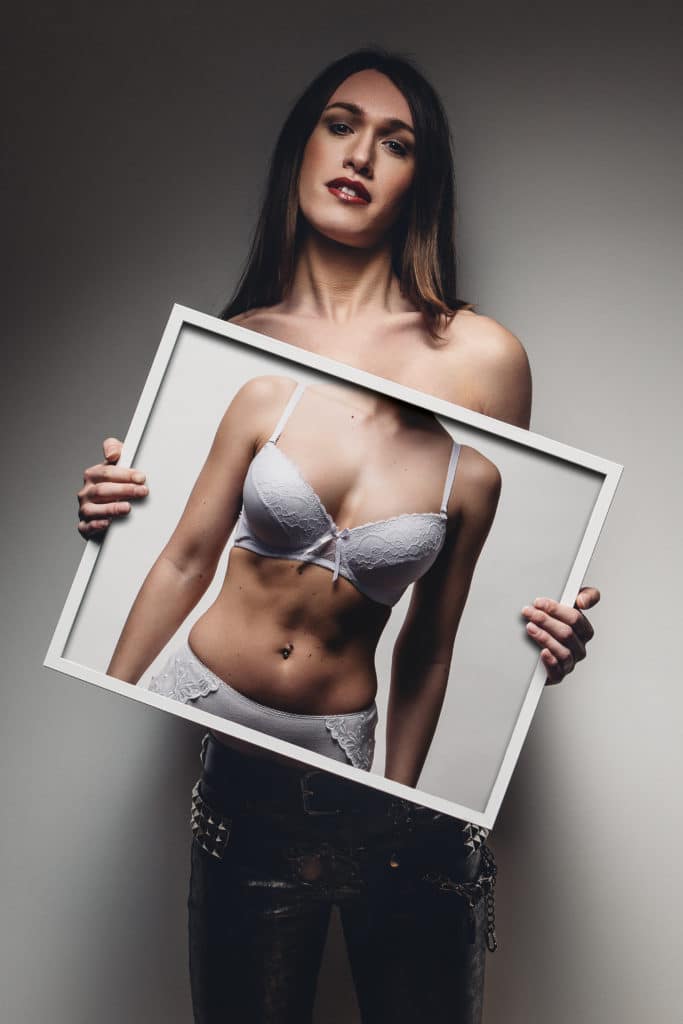 Transgender women and transfeminine gender non-conforming individuals on hormone therapy may not obtain their desired degree of breast development with hormones alone. MTF breast augmentation is surgical breast enhancement using saline or silicone gel breast implants. This procedure allows for both increase in size and fullness of the breasts to create a much more feminine contour.
There are multiple implant options, and the implant choice depends on multiple factors. Patients may choose between saline and silicone gel implants, each of which is made in varying projections, sizes. Silicone breast implants in general have a more natural feel and are preferred when there is little natural breast tissue to cover them. Saline implants allow for the most volume at their largest.
Each one may have advantages and/or disadvantages for any given person. In your consultation with Dr. Fisher, the type of implant that will best suit your desired outcome will be selected.
For Transgender Breast Implants Do I Have to Go On Hormones?
In general, most do go on hormones prior to getting breast augmentation. One reason to consider taking hormones is in order to develop increased breast tissue. By having more of your own breast tissue, the result of breast augmentation is far better.
Recovery from MTF Breast Augmentation
Patients should have a personal care assistant during the first 48 hours after surgery, if not longer. Physical activity including lifting objects and strenuous exercise will need to be avoided for several weeks no matter how good you feel. Walking is resumed and encouraged immediately after surgery. It will take several months for your final outcome, oftentimes longer than that for cis women, and Dr. Fisher will prepare you for that progression.
Swelling and bruising are normal side effects of breast augmentation surgery. Discomfort and swelling are managed with prescription medications and ice packs initially, and later, over-the-counter medications and proper wear of the recommended garment or bra.
---
Request a Consultation
Gender Affirming Body Sculpting
Body type is a combination of fat distribution, muscle mass, and bone structure. The shape of one's body is therefore largely determined by genetics and body composition. Body sculpting procedures are performed to assist trans people to feel more confident in their physiques. Non-surgical procedures such provide circumferential fat reduction without surgery.
Trans men may move toward a more masculine body shape with liposuction to reduce the contour of the hips, flanks, thighs, back, and other bothersome areas. Trans women may also turn to liposuction to accentuate curvature in the waist or other areas. Buttock augmentation may also be performed to add feminine contouring in appropriate candidates. At Elite Transformations, we want to help every individual feel true to themselves and comfortable in their own skin.
Facial Feminization Procedures
Some patients seeking to have more feminine facial features will benefit from facial feminization procedures. Facial feminization surgery can be a pivotal step toward the expression of gender. There is no "one size fits all" protocol to achieve a desirable outcome. As with all procedures done by Dr. Fisher, facial feminization is tailored to the individual. Dr. Fisher spends a great deal of time with each patient in order to evaluate and understand the objective to be met. We understand that some patients may be interested in a dramatic change as quickly as possible, and others may want to take a more gradual approach to facial changes.
Common procedures performed in facial feminization include:
Insurance Accepted for Gender Affirmation Procedures
We work with the following insurance companies:
Blue Cross

Blue Shield

United Healthcare

Cigna
Please verify that Dr. Fisher is a provider within your network as individual plans may vary. To schedule a consultation or for additional information please submit this form.
Schedule a Consultation
Dr. Fisher would be happy to speak with you about your personal goals for gender affirmation.
If you're ready to learn about your options, we should talk! Call to schedule your appointment at our office in San Mateo, CA at ‭650-460-7260.